IQ Puzzles 16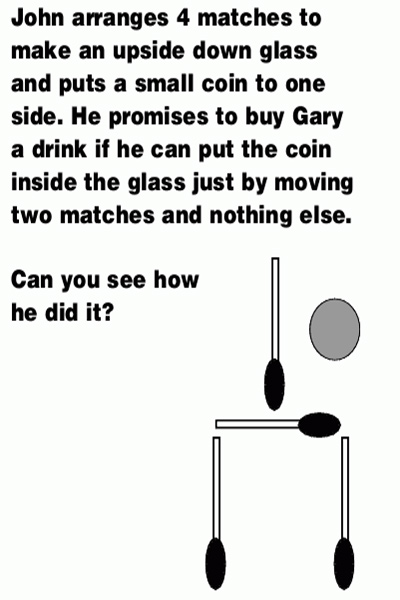 Answer of previous Puzzle 7:
R
Letters in the right half of the circle are seven places in front of the opposite letters.
8 / 25
Test your English Language
English Learning
English Vocabulary
Ganesh Chaturthi
Grammar Exercises
IQ Puzzles 02
IQ Puzzles 03
IQ Puzzles 05
IQ Puzzles 08
IQ Puzzles 09
IQ Puzzles 11
IQ Puzzles 12
IQ Puzzles 13
IQ Puzzles 18
IQ Puzzles 19
IQ Puzzles 21
IQ Puzzles 24
IQ Puzzles 25
IQ Puzzles 26
IQ Puzzles 27
Jyotirlinga Nageshvara
Jyotirlinga Omkareshwar
Jyotirlinga Rameshwarm
Jyotirlinga Somnath
Jyotirlinga Vaidyanath
Mahabharat Hindi
Mata Vaishnavi Devi Hindi
Optical Illusion 2
Sikh Guru Hindi
Wallpaper of Hanuman Ji
Wallpaper of Shiva
Popular Mobile Apps
Simple Science
Very Small Objects
Invisible Objects:
We saw in Section 84 that gases have a tendency to expand, but that they can be compressed by the application of force. This observation has led scientists to suppose that substances are composed of very minute particles called molecules, separated by small spaces called pores; and that when a gas is condensed, the pores become smaller, and that when a gas expands, the pores become larger.

The fact that certain substances are soluble, like sugar in water, shows that the molecules of sugar find a lodging place in the spaces or pores between the molecules of water, in much the same way that pebbles find lodgment in the chinks of the coal in a coal scuttle. An indefinite quantity of sugar cannot be dissolved in a given quantity of liquid, because after a certain amount of sugar has been dissolved all the pores become filled, and there is no available molecular space. The remainder of the sugar settles at the bottom of the vessel, and cannot be dissolved by any amount of stirring.

If a piece of potassium permanganate about the size of a grain of sand is put into a quart of water, the solid disappears and the water becomes a deep rich red. The solid evidently has dissolved and has broken up into minute particles which are too small to be seen, but which have scattered themselves and lodged in the pores of the water, thus giving the water its rich color.

There is no visible proof of the existence of molecules and molecular spaces, because not only are our eyes unable to see them directly, but even the most powerful microscope cannot make them visible to us. They are so small that if one thousand of them were laid side by side, they would make a speck too small to be seen by the eye and too small to be visible under the most powerful microscope.

We cannot see molecules or molecular pores, but the phenomena of compression and expansion, solubility and other equally convincing facts, have led us to conclude that all substances are composed of very minute particles or molecules separated by spaces called pores.