IQ Puzzles 06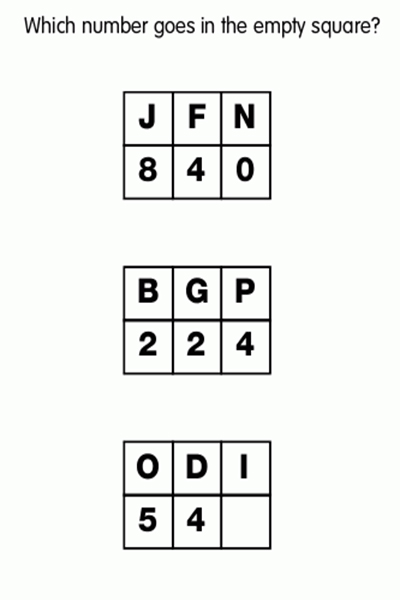 Answer of previous Puzzle 3:
26
Going clockwise, numbers represent the sequence of prime numbers multiplied by 2.
4 / 22
Test your English Language
Ganesh Chaturthi
Ganesh Mahima Hindi
IQ Puzzles 02
IQ Puzzles 03
IQ Puzzles 05
IQ Puzzles 06
IQ Puzzles 07
IQ Puzzles 12
IQ Puzzles 14
IQ Puzzles 16
IQ Puzzles 21
IQ Puzzles 24
IQ Puzzles 25
IQ Puzzles 26
IQ Puzzles 27
IQ Puzzles 28
Jyotirlinga Bhimashankar
Jyotirlinga Kashi Vishwanath
Jyotirlinga Kedarnath
Jyotirlinga Mahakaleshwar
Jyotirlinga Mallikarjuna Swami
Jyotirlinga Rameshwarm
Krishna
Mahabharat Hindi
Mata Vaishnavi Devi Hindi
Optical Illusion 1
Sai Baba Wallpaper
Shri Mad Bhagwad Geeta Hindi
Wallpaper of Hanuman Ji
Wallpaper of Shiva
Popular Mobile Apps
Best Shaded Mehndi Designs
Designs 3
Take a look at this one of the beautiful Arabic shaded mehndi designs with shaded leaf pattern on the wrists. The floral patterns on the palm and the tips of the fingers are filled with mehndi. But on the wrists, shading is used to intensify and give a new look to the whole design.