IQ Puzzles 03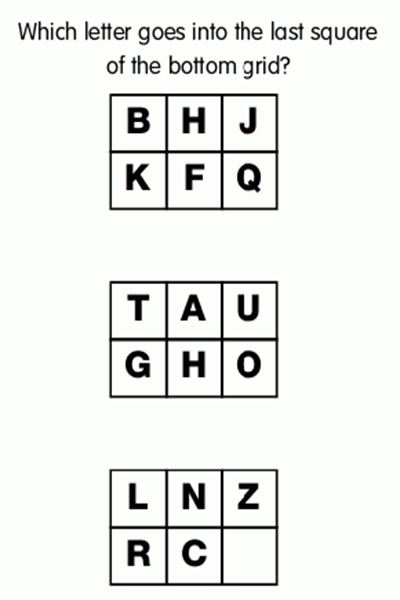 Answer of previous Puzzle 1:
3
In each row, add the left and the right hand numbers and divide by 2 to get the central value.
2 / 23
Test your English Language
Durga Mahima Hindi
Ganesh Chaturthi
IQ Puzzles 01
IQ Puzzles 02
IQ Puzzles 05
IQ Puzzles 06
IQ Puzzles 13
IQ Puzzles 14
IQ Puzzles 15
IQ Puzzles 16
IQ Puzzles 18
IQ Puzzles 21
IQ Puzzles 22
IQ Puzzles 23
IQ Puzzles 25
IQ Puzzles 26
IQ Puzzles 27
IQ Puzzles 28
Jyotirlinga Bhimashankar
Jyotirlinga Grishneshwar
Jyotirlinga Kashi Vishwanath
Jyotirlinga Mahakaleshwar
Jyotirlinga Rameshwarm
Jyotirlinga Somnath
Jyotirlinga Vaidyanath
Mahabharat Hindi
Optical Illusion 2
Shiv Mahima Hindi
Sirdi Sai Baba Hindi
Wallpaper of Hanuman Ji
Popular Mobile Apps
Top Hotels
ITC Hotel Windsor Sheraton & Towers Bangalore India
A hotel with a long acquired a reputation of playing host to the aristocracy of the world. Ideally situated from Business centres in the city, the ITC lies close to the Golf Course and Vidhan Soudha. Expect nothing less than world class ambience and finest in-the-city dining experiences from Chefs all around the globe. Live the royal life at ITC Windsor and and view the Skyline from Bangalore's top 5 star hotel, also locally renowed as Paradise. Invoke magic as you walk through the corridors filled with high class magnifence.